Watercolor: Exploding Dahlia - 20" x 14"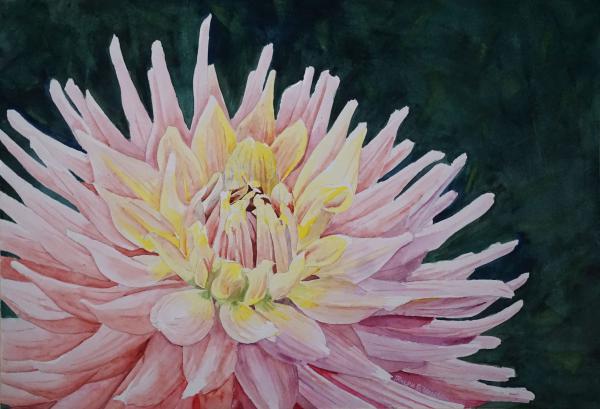 This particular dahlia looks like it's exploding. I love the energy and action. I used a new color to me for many of the petals -- Quinacridone Burnt Scarlet, with some Quin Coral. On the lower right I used a diluted Bordeaux. There are many species of Dahlias, and more than 50,000 cultivars. This one I've painted is in the Cactus Dahlia group, perhaps the 'Star Elite' cultivar. Juried into the 2022 WASH Open Show "Go with the Flow," August 16-Sep 10 2022. 220320. Watercolor, 20" x 14".
---
Ralph F. Wilson Watercolors
P.O. Box 565, Loomis, California 95650
phone (916) 652-4659
E-mail
All art works are copyright by Ralph F. Wilson. All rights reserved.