Watercolor: Nieuwe Kerk Steeple, Delft, Holland - 7" x 10"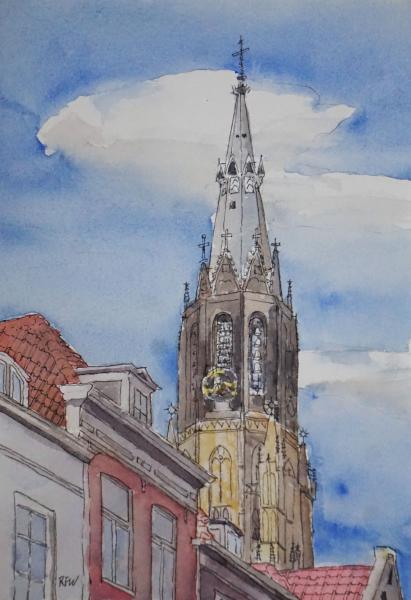 When I visited Delft, Holland in September 2014, I saw two high steeples. One was from Oude Kerk ("Old Church"), built in 1246, with the tower 75 years later. The other was Nieuwe Kerk ("New Church"), whose tower was built 1396-1496. My painting shows how the Nieuwe Kerk spire towers over the city 357 ft. in height. Part of my 31 Paintings in July Challenge. 210724. Awarded second place in August 2021 WASH Painting of the Month. Watercolor and ink, 7" x 10"
---
Ralph F. Wilson Watercolors
P.O. Box 565, Loomis, California 95650
phone (916) 652-4659
E-mail
All art works are copyright by Ralph F. Wilson. All rights reserved.