Watercolor: Peeking at Lincoln Cathedral - 11.25" x 21.5"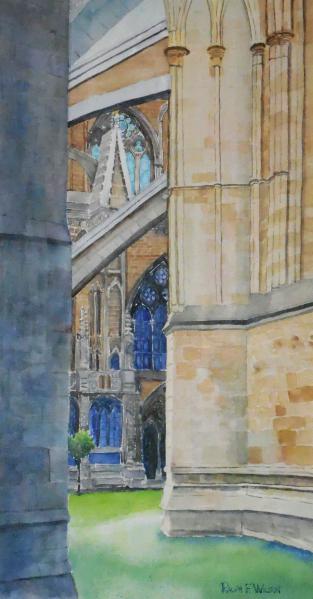 During a 2009 trip to England, Jean and I spent time exploring Lincoln Cathedral. It was begun in 1088 AD and built over the next several centuries. This painting is of a view of the building's flying buttresses. The more I worked on this painting, the more I grew to appreciate the level after level of intricate decoration of even the slice I was painting. It's amazing! Victorian writer John Ruskin declared: "I have always held... that the cathedral of Lincoln is out and out the most precious piece of architecture in the British Isles and roughly speaking worth any two other cathedrals we have." Exhibited in the in the "Awash with Color" WASH Members Show at Sacramento Fine Arts Center, April 3-22, 2018. 171031. Watercolor, 11.25" x 21.5". In a private collection: St. Andrews Episcopal Church, Antelope, CA.
---
Ralph F. Wilson Watercolors
P.O. Box 565, Loomis, California 95650
phone (916) 652-4659
E-mail
All art works are copyright by Ralph F. Wilson. All rights reserved.