Home | New | Animals | Flowers | Landscapes | Cityscapes | Portraits & Figures | Miscellaneous | Plein Air | About the Artist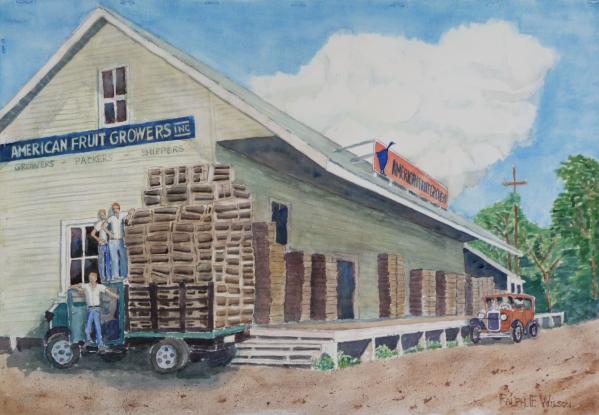 Watercolor: Blue Goose Fruit Shed, Loomis, California, ca. 1930 (20" x 14")
This was adapted from several historical photos in Images of America - Loomis, by the Loomis Basin Historical Society (Arcadia Publishing, 2009). This shed no longer exists, but it was once at Taylor Rd. and Webb. Watercolor, 20x14 inches. Exhibited in "Along the Lincoln Highway," A juried art show by the Auburn Arts Commission, Dec 12, 2013 to Feb 7, 2014.
---
Ralph F. Wilson Watercolors
P.O. Box 565, Loomis, California 95650
phone (916) 652-4659
E-mail
All art works are copyright by Ralph F. Wilson. All rights reserved.