Home | New | Animals | Flowers | Landscapes | Cityscapes | Portraits & Figures | Miscellaneous | Plein Air | About the Artist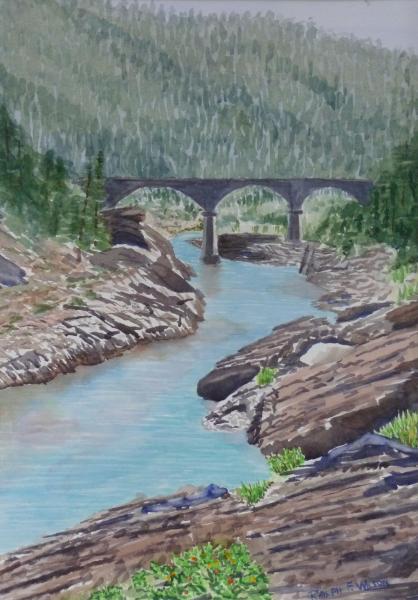 Watercolor: No Hands Bridge, Auburn Ravine (14" x 20")

You're looking downstream at the so-called "No Hands Bridge," built 1910-12 by the Mountain Quarries Railroad to connect a limestone quarry to the Southern Pacific mainline in Auburn. It was built over the South Fork of the American River, just downstream from the Highway 49 bridge. When it was built it was the longest concrete railroad bridge in the world, abandoned about 1940. It got the name "no hands bridge" because local horseback riders would ride across it without using the reins -- 150 above the riverbed without handrails! Transparent watercolor. 14x20 inches.



---
Ralph F. Wilson Watercolors
P.O. Box 565, Loomis, California 95650
phone (916) 652-4659
E-mail
All art works are copyright by Ralph F. Wilson. All rights reserved.